Spring will soon be over and it's time to start looking towards summer style in men's fashion. Here are so
ITEM #1: SQUARE-HEMMED SHIRTS
While the traditional polos are always nice, a more stylish option would be an untucked, square-hemmed dress shirt in light colours. Some key points: it's a long-sleeve shirt and it's slim cut. An ill-fitting, short sleeve dress shirt is going to make you look like a Silicon Valley nerd. You don't want to look like that (I'm guessing), so take your shirt to a tailor and have them make sure it fits snugly around your torso. Then just roll up your sleeves.
ITEM #2: LINEN PANTS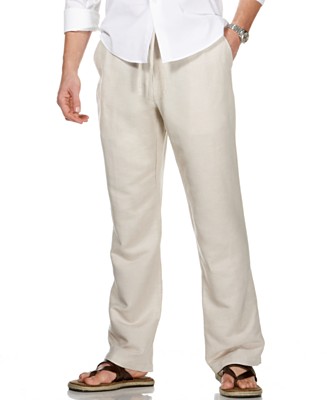 A quality pair of slim-fit, white linen pants look great and can be paired with most every shirt (except for a white shirt). Make sure they aren't too long and have no to only a little break -- showing some ankle is acceptable.
ITEM 3: BOAT SHOES
Stay away from the sandals and flip-flops this summer. Boat shoes are a great alternative. I prefer Sperry Top Sider boat shoes as they're usually the cleanest, most simple, and most affordable. Wear these sock-less and with pants -- if you're going to wear shorts, then choose a very clean style. Even the one pictured would be too clunky for shorts. For white pants, wear a coloured pair, such as blue or red. With coloured pants, white usually works fine.
ITEM #4: COTTON BELT
This belt from Ralph Lauren works perfectly with a pair of linen pants or chinos and adds a nautical flair to your outfit. For summer belts, this sort of canvas style is usually the best choice.
Ralph Lauren
really makes the best summer-friendly belts. While I would never spend $125.00 on a belt, you can find similar styles at thrift stores for about $3.00 -- use Ralph Lauren for inspiration.
ITEM #5: BROWLINE SUNGLASSES
Ray Ban recently released a pair of browline sunglasses and dubbed them Clubmasters, but they're still browlines as far as I'm concerned. Some people hate these, but I think they have a certain 'cold warrior from the 50's' vibe that's always stylish. They're also less ubiquitous than wayfarers. Get a pair with tortoise shell frames and you'll have a relatively unique, stylish pair of sunglasses.