Summer suits are one thing, but here are some casual summer shirts for those days spent loafing in a park or on a patio.
Polo Shirt
: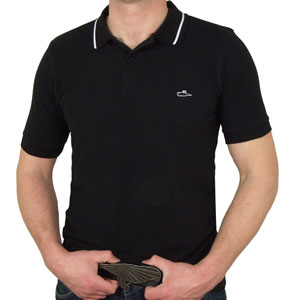 The polo is a great casual summer shirt. Its roots are with Rene Lacoste who developed it for tennis in 1929. While I wouldn't recommend it for bankers and corporate executives, it can be worn in some office (and most every casual) setting.
It should fit snugly around the torso and the sleeves should end mid-bicep. As a guide, make sure the shoulder seam ends on your shoulder. The bottom of the shirt should hit somewhere around or just after your belt.
You can pair this with chinos or jeans, but if you opt for the latter keep the jeans well-fitting, clean, and crisp -- the formality of the polo doesn't blend with ripped and worn denim.
Pair this with a pair of penny loafers or boat shoes and you'll have a great casual summer look.
Button-down Shirt:



No, I don't mean a Hawaiian shirt. I mean a nice, button down shirt in a simple colour and pattern.
I've
discussed the proper fit
of a button-down shirt before, but what shirt you wear depends on whether you want it tucked in or not.
A tucked in shirt is formal, but can also look casual in the summer. A pale blue, pink, yellow -- any light pastel colour -- dress shirt worn tucked in with well-fitting chinos with a pair of loafers or boat shoes, preferably sockless, looks good and is casual enough for wandering downtown in the city.
Admittedly, this may not be the best look for the beach or a family BBQ. That in mind, you can always get a button-down that is meant to be worn untucked. These are appropriate for most settings. Just make sure that it's actually meant to be worn untucked and not a normal dress shirt. You can tell by checking the length -- if it ends just below the belt and doesn't fall below your hips, then it's fine to be worn untucked.
You can pair an untucked button-down with casual pants -- I'd recommend chinos as it tends to look, well, bad with jeans -- and sneakers, loafers, or boat shoes. It's very versatile and difficult to wear poorly so long as it fits well and is a simple pattern and colour.
T-Shirt:



If you insist on wearing a t-shirt, then here are a few things to consider.
Fit. Baggy t-shirts look awful. It should fit like a polo -- snugly, with the shoulder seam ending at the shoulder and the shirt ending at the belt.
Please, no graphic t-shirts. Simple, plain colours are good. If you're wearing a t-shirt, you don't want your shirt to be the most eye-catching thing you have on. This is why you'll want to pair it with something like madras shorts and loafers or white jeans and colourful sneakers.
Don't get me wrong, I'm not saying t-shirts can't look good, I'm just saying most people don't wear them in such a way that they look good. But if you know how, then go for it.