Click here in case you missed the first part of Men's Fashion:
Tie Styles
.
In the second part of this installment of Men's Fashion, let's turn to patterns.
The printed tie style, because it is cheap and easy to manufacture, is by far the most common. That is not to say it is the best. There is something to be said for the simplicity demanded of designs and patterns woven into the fabric of the tie itself. The printed tie allows the men's fashion designer to create any tie style he can imagine -- a capacity that has spawned far too many ties that are far too gaudy.
That being said, there are still a selection of printed neckties that are in excellent taste. Let's take a look at some of the most attractive printed tie styles.
Dots: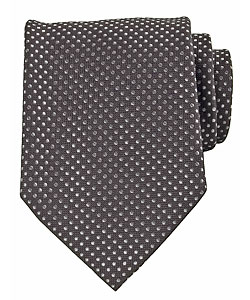 Dots were originally a pattern reserved for women. However, they eventually migrated to men's fashion, a development that has been salutary for men's style in my opinion. Dots complement most other patterns (when worn sensibly) but look particularly good when paired with the chalk stripes of a suit.
Paisley:
Paisley is a very interesting pattern. Freud thought that it indicated virility since the pattern resembled sperm. It was also considered one of the only bold patterns acceptable for the Ivy Leagues. The paisley tie style works well with most other patterns and adds interesting nuance to any outfit.
Club:
The club tie is one of my personal favourites. The first club ties were borne out of the flags of sports teams in England. When the teams came to adopt ties they naturally used the colours and symbols of their flags on their ties.
However, the club tie really gained popularity when men's fashion designer Henri d'Origny developed the famous Hermes equestrian design in the 1950's. Hermes has since branches out to various other designs, including elephants, trees, and one Wall Street inspired pattern of bulls and bears (pictured above). These patterns are often used to liven up the otherwise drab and unoriginal work uniform of lawyers and investors. Indeed, the inventive tie styles of Hermes have become such a staple of the men's fashion of London's lawyers that it is odd for a man of that set not to own at least one.